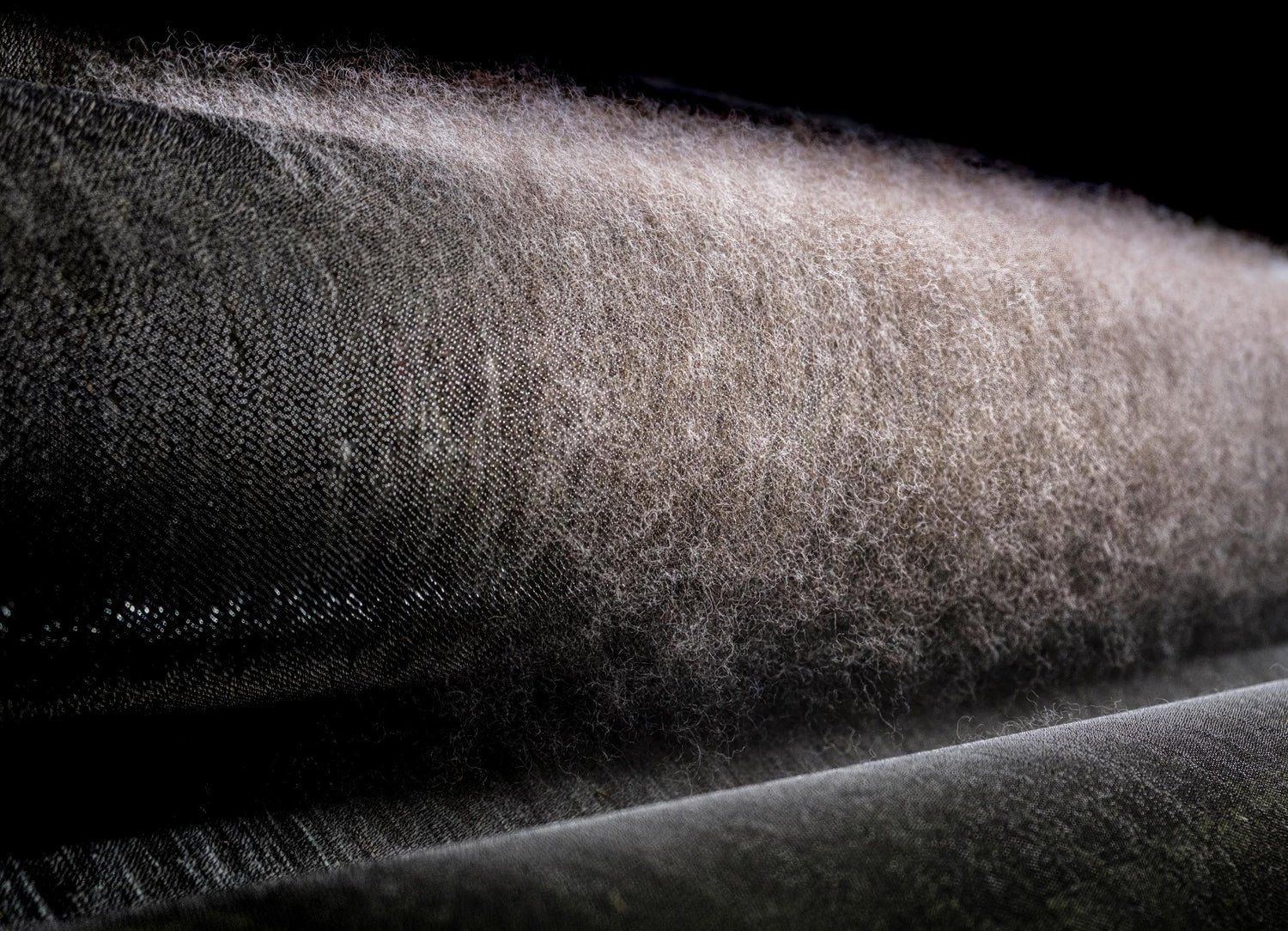 Small Batch / Retail Processing
Thank you so much for your interest in Skagit Woolen Works for the processing of your fleece!
Jess and Anna are both passionate about working with wool and other fibers, and it's our goal to do the best job we can with your fleeces to give you back a product that we're proud of, and that you will love. 
If fleece processing is new to you, we'll be putting together a few articles you may find useful, check back soon for updates!
Terminology
Skirting & Scouring
Picking
Carding
Woolen preperation
What can I do with my carded roving?
Retail vs Wholesale Processing
Retail

This is for customers with just a few fleeces to process; maybe you purchased one from a local farm or fiber festival with the intenion of processing it yourself. If it seems like a lot of work, we can help you out! Our minimum for processing is 3 pounds raw weight of fleece. Because our carder is large, smaller amounts or very fine (ie: Merino) fleeces are better served by smaller carders. We'd be happy to put you in touch with other local mills that might be a better fit for your project.

Wholesale

This is for larger (greater than 15 pounds raw weight) of fiber. If you're a fiber producer (or just a really big fiber enthusiast!) please email us (hello@skagitwoolen.com) so we can provide you with a customized quote. We can also discuss collaborative projects, like working with other local mills to create different products. We'll have more information on wholesale processing soon, check back for updates.
Services & Rates
The above articles will give you more information on how we prepare fleeces here at the mill. Feel free to email us if you have more questions about the process.
Our machines require a staple length of at least 3" and at most 10" (measured from the cut/sheared end to the tip of the locks). When in doubt, check the fleece throughout.
Here is a list of the services we provide for our small batch/retail processing clients:
Skirting & Scouring
See 'What we expect of you' below for more information on skirting. We will open up every fleece we receive to determine it's qualities and condition before proceeding. We charge for scouring based upon incoming weight of the fleece. The number of washes required is an estimate based upon the expected amount of lanolin common to the breed. Upon washing of your fleeces, if it becomes clear that more washes are required than initially quoted, your final invoice will reflect the greasy-fleece rate.
Alpaca, Llama or other camelids: $12 per incoming pound. As camelids do not produce grease, the washing process is less vigorous
Medium to coarse sheep breeds: $14 per incoming pound. Breeds such as Shetland, Icelandic, Border Leicester, Romney, Coopworth, Mohair, etc.
Fine and/or very greasy breeds: $16.50 per incoming pound*. Breeds such as CVM/Romeldale, Targhee, Columbia, etc.
Extra washes for very greasy fleeces: $2.50 per incoming pound (SWW will notify client if this is deemed necessary)
*Please note that very fine fleeces need to be in very good condition in terms of health and cleanliness for the best success with processing. There can be weak spots in fine fleeces that are not readily visible, tender tips, and very fine locks can hold stubbornly onto contaminants such as grass and chaff. SWW will do its best to process your fleece on our carder, but please keep in mind that we do not have equipment such as dehairers or combs to remove excessive VM, nepps and/or noils that are common in the woolen processing of fine fleeces. 
Picking & Carding
We charge for picking and carding based on the clean weight of the fiber. When you receive your estimate, we'll send you your 'estimated yield' which will be the higher weight of what we expect to produce after washing. These yields are based on fiber quality, breed, greasiness, etc. If you'd like your fiber blended (required for camelids and mohair), you can provide your own wool, or we currently have American Targhee blend commercial combed top available for $10/pound.
Picking/blending only: $5 per clean weight pound. SWW keeps some material on hand for blending, for camelids or other wool blends. If interested, please inquire as to what is available, and pricing.
Carding into roving or batts: $18 per clean weight pound (price includes any picking or blending required)
Ready to submit your project for a quote?
Fill out our Custom Processing Questionnaire with all the particulars about your project and we'll send a quote back to you in 3-5 business days.
Custom Processing Questionnaire
What to expect from us
Processing
We will wash your fleece, rinse, and dry it, in order to prepare it for picking and carding. Camelids tend to be very dusty/dirty, but not greasy, and generally require only 2 washes. Medium to coarse sheep or goat fleeces that are reasonably clean and not too greasy will be washed three times with a biodegradable, scouring-specific industry soap that works very well to clean fibers without damaging them. Fleeces that are finer, or greasier, will generally require a fourth wash. We will rinse the fleece twice, once with a shot of plain white vinegar to cut any soap residue and lingering odors, and once more with plain water. We will evaluate each batch of fleece as we go; if it's clear that more extensive scouring is required we will consult with you about the fleece needs and extra cost.
Next the clean locks will be picked open. Medium and coarse fibers can be put through our industrial picker, which opens them up in preparation for running evenly on the card. Finer fibers don't do so well with mechanized picking, so we will hand-pick to open locks. 
Finally we will load your fleece or fiber onto our card "Rosie". She is a big, dependable and sturdy machine, built during the Art Deco 1920's when machines were built to be durable and reliable! Six sets of rollers will open and card the locks into a "web" of fiber that comes off the front end of the card in a delicate, continuous sheet. That web can then be coiled into standard-weight roving, or rolled onto our batt-roller, for batts up to 60 inches wide. The cost for picking and carding is combined, and based upon the clean weight of your fiber.
Ongoing communication
Skagit Woolen Works will stay in communication with you regarding your place on our processing list, and the approximate time it will take for the product to be finished. When processing is done, we will bill you for the final amount for all processing, minus your deposit, and plus the cost of return shipping. Finished product will be mailed (or made available for pick up at the mill) upon confirmed receipt of the balance of the invoice. 
If your fleece arrives in a condition we deem unfit for processing here at the mill we will notify you right away, and make further arrangements with you. If at any point during the processing we feel that we need to make changes to the agreed upon processing, we will inform you right away. We'll never proceed with a project unless we feel good about the outcome!
Current lead times
We are currently booked out 8-10 weeks, so if you began the process today, you could expect your product to be returned to you in 8-10 weeks.
What we expect of you
Fleece Quality and Cleanliness
What comes in with the fleece will most likely stay with your fleece; the healthier and cleaner your fleece is when we receive it, the better your end product will be. We can wash out grease and some amount of dirt, but very dirty and hard tips, excessive VM, and fleeces with weak or tender spots cannot be fixed in our milling process. 
Because we charge for scouring based on incoming weight, thoroughly skirting your fleece before sending it to us will save us time, and will save you money. Unroll your fleece, cut-end down, and examine it thoroughly. Remove excessively dirty, soiled edges, and areas of the fleece that are very contaminated with hay, seeds or chaff. Look for and remove second-cuts and/or very short sections. Take the time to check the strength of the locks, and whether the tips break off - weak areas can be localized, and if you can find and remove a tender section ahead of sending it to us you will save on both postage and processing costs. We inspect all fleeces, and skirt for quality before scouring. 
If you bring fleece to us that has already been washed to some extent, SWW reserves the right to re-scour at our discretion, based upon our knowledge of what will run best on our machinery.
Prompt payment and pickup of finished product
We require a 25% deposit to be paid to initiate processing of your fleece. This puts your project in the queue, and we will then notify you of how long it will be before your project is ready.
Once your project is in line for processing, you can expect to have your product back in 30 days. You'll want to make sure you are able to pay the balance due at the time of pickup or prior to shipping. Any product not paid for or picked up from our mill in 60 days becomes our property, along with the deposit.
You are welcome to bring your fleece to us, and pick up your finished product at the mill to save on shipping costs if you're local. Otherwise we'll include shipping on your final invoice.